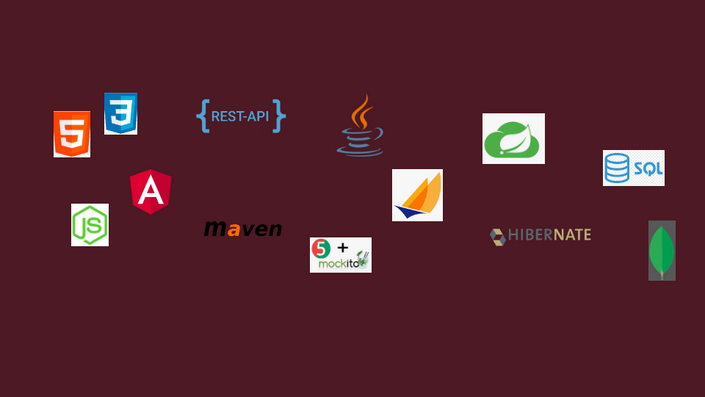 Become a Java full stack developer in 2 months even if you do not know how to write code in Java
Kick start your career as a full stack developer and develop robust application in UI, server side frameworks and data base with this interactive course
Objectives
Shristi's Full stack java developer master programs provides a comprehensive knowledge in the client-side(UI), server-side frameworks (middleware) and backend(database) of an application stack development
You will gain expertise in the basic and advanced concepts of HTML, CSS, Angular for the client-side, Java8, JDBC, Junit, JEE, REST API, Spring IOC and MVC, Hibernate frameworks for the server-side and MongoDB for the database
Key Features
75 hrs class room equivalent on-demand video - Learn from anywhere and anytime and complete your certification at the ease.
86 downloadable easy to practice example programs for hands-on practice and create your own programs
50 downloadable course content slides for reference
50 coding assignments
3 projects to master real time use cases in Java programming
200 interview questions to prepare for java full stack developer course
Unlimited doubt clarification support when you struck while learning
Placement assistance
Course completion certificate
What will you learn in this java full stack developer training course?
Understand OOPs concepts
Learn to handle exceptions
Concepts of Multithreading
Java 8 Features – Lambda, Functional interface
Collection Framework and Streams
JDBC to communicate with the database
Junit for testing java application
Log4j for adding logger to a java application
Learn to use HTML5, CSS3 for static web applications
Understand javascript constructs, event handling
Learn to create Angular components
Using Servlet and JSP APi for creating server side application
Understand MongoDB
Integrate web application with the database
Spring IOC, DI and Configuration metadata
Using Spring Boot for creating a spring application
Use Spring MVC for web application'
Use Hibernate to communicate with the database
REST API with spring
Integrating an Angular app with a spring application
Who should take this java full stack developer training course?
Engineering graduates who are looking for a job
Final year students who want to start their career in full stack
Software developers who want to become expertise in full stack
Why should you take this java

full stack developer

training course?
Full-stack developers have become the preferred hiring choice for large technology companies and startups.
This program is structured to ensure maximum industry relevance, geared to get you job-ready for careers in front-end, back-end and full stack development.
What are the prerequisites for this java full stack developer course?
Basic knowledge of programming
Keen interest to learn Java full stack
Learning path to become a FullStack developer
This is a master program with all individual courses. Once you enroll this course, the following courses will be added to your learning plan.
OOAD & UML for beginners
SQL for beginners.
Get Java certified in 15 days – Become a Java developer
GIT and Maven for Java developers
Unit testing with Junit5& Mockito, SLF4J for Java developers
HTML&CSS3 for beginners
JavaScript for beginners- learn by doing
Advance Java programming-become a J2EE developer
REST API and hibernate
Spring5 framework using Spring boot for beginners
Master Spring Microservices using Spring boot and netflix OSS
Angular.js for beginners
Mongo DB
Node.js for beginners
Course Outline
Java 8
Introduction to Java
Data types, Operators, Control flow
Classes and Objects
Constructor and method Overloading
Inheritance and Overriding
Abstract classes and interfaces
Access specifiers
Functional Interface and Lambda
Exception Handling
Multithreading
Collection Framework and streams
Java io and nio package
JDBC with mysql
Maven, Junit & Log4j
Introduction to Maven
Java application using Maven
Introduction to JUnit
Testing a java application using JUnit
Introduction to Log4j
Adding Logger to a java application
HTML5&CSS3
Introduction to HTML5
Formatting tags, table and forms
Links and List
Input types and attributes
<div>,<p>,<span> tags
Form validation using HTML5
Audio and Video tags
Local and Session Storage
Overview of CSS3
External vs Internal vs Inline
Styling for background, font, list
Using class and Id
Box model
Javascript
Introduction to Javascript
Data types, Operators, Control flow
Handling Events
Using InnerHTML and getElementByID
Form Validation using javascript
JEE (Servlet and JSP)
Introduction to Servlet API
Lifecycle of Servlet
RequestDispatcher and sendRedirect()
Session handling in a web application
Introduction to JSP API
Lifecycle of JSP
Scripting Elements and EL
JSTL tags
Hibernate
Introduction to Hibernate Architecture
Hibernate Architecture
Hibernate Configuration File
CRUD operation using hibernate
HQL
Mapping Association
Spring Core
Introduction to Spring
Spring Architecture
Spring IOC and DI
Metadata Configuration
Autowiring
Lifecycle & scope of a spring bean
Introduction to Spring Boot
Integrating with database using JDBC
Deploying a spring application
Spring MVC
Introduction to Spring MVC
Web application using spring boot
Controller, ModelMap and View
Exception Handling using @Controller Advice
Integrating with the database using Hibernate
Integrating with the database using JPA
REST API using Spring
Deploy as JAR and WAR
Spring Security
Mongo DB
Introduction to MongoDB
Installation and Environment setup
Creating & Dropping Database & Collection
Insert, Query, Update & Delete Document
find(), limit(), skip(), sort() methods
Angular
Introduction to Angular
Angular Architecture
Understanding Typescript
Angular Components
NgModule in Angular
Data Binding – Property, Event Binding
Interpolation
Two way data binding
Structural an Attribute directives
Communication between components
Services and Dependency Injection
Reactive Forms
Communicating with server
Importing Router Module and routes
Configuring Routes
Your Instructor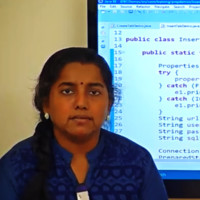 10000+ hours training delivered. 1000+ people trained so far in corporate.

Expertise on Java and JavaScript frameworks with in depth knowledge in designing and developing the training courses.

Unique training methodology based on participants' understanding, using real-world examples

Ability to develop self-paced eLearning programs.

A passionate teacher, who has mentored many bright young minds

Trained few clients like Sapient, OFSS, HP, Verizon, XChanging, Wipro, HeadStrong, iFlex, CTS, Accenture. ·
Frequently Asked Questions
When does the course start and finish?
The course starts now and never ends! It is a completely self-paced online course with unlimited live interactive trainer support - you decide when you start and when you finish.
How long do I have access to the course?
It based on your subscription. After enrolling, you have unlimited access to this course for as long as you like - across any and all devices you own.
How will my doubts be cleared?
You can post your questions to the discussion forum. Our trainer will answer your queries and clarify your doubts. Please check our regular webinar and try to attend the same.
What is the uniqueness of this course?
At Shristi, we provide industry relevant content. Each concept is explained in depth and is easy to understand for any non computer science background students/engineers. It is completely hands-on oriented and give a measurable learning experience to you. You will get the class room experience from this course.
How do I master the concepts in the course?
We have uploaded the program files, that we teach in the video. You can download the program files and start practicing it on your own. When you have doubts or when you get stuck, please post your queries to the discussion forum. At the end of each section, there will be a quiz to practice that reinforce the concepts learned.